FIRST ALERT: Severe storm risk with a squall line tonight
The rain threat increases late this evening into overnight
Published: Nov. 20, 2023 at 4:41 AM CST
|
Updated: Nov. 20, 2023 at 6:30 AM CST
NEW ORLEANS (WVUE) - A severe weather threat is expected across the Deep South today into tonight as a strong cold front moves through the region.
For most of your Monday, things will be on the quiet side in weather. Now we'll be much warmer and certainly more humid. Highs will trend to around 80 with a southerly breeze picking up. A few storms are not out of the question but they will be sporadic in nature until tonight.
The overnight time period is when the threat for severe weather will increase in our local area. A line of strong to severe storms will progress through between 10 PM and 4 AM. The squall line is likely to produce a brief downpour along with gusty winds and maybe even a tornado or two. Make sure you have a way to receive weather warnings tonight which should include having the FOX 8 Weather App.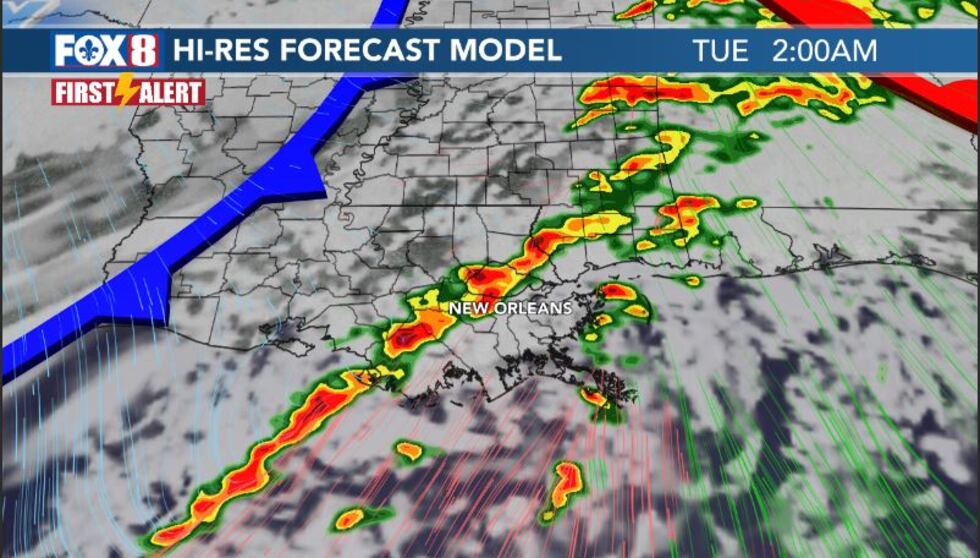 Quickly this weather will be long gone by Tuesday morning as we turn windy and much cooler. Temperatures will be falling for the middle of the week and that chilly trend will continue through Thanksgiving. Unfortunately for the holiday, I'm seeing another rain chance as a Gulf low leads to a showery light rain. We'll focus on that part of the forecast after tonight's storm event.
See a spelling or grammar error in our story? Click Here to report it. Please include the headline.
Subscribe to the Fox 8 YouTube channel.
Copyright 2023 WVUE. All rights reserved.