Gulf saltwater intrusion could threaten Belle Chase's water supply by early October
Published: Sep. 15, 2023 at 4:45 PM CDT
NEW ORLEANS (WVUE) - The Army Corps of Engineers and state emergency officials warn Belle Chasse residents that saltwater could reach nearby water intakes in the first week of October, threatening drinking water for all of Plaquemines Parish.
The saltwater is coming from the Gulf of Mexico, with rainwater from the Mississippi River Valley at historically low levels - making the river's waters unable to push back the heavier saltwater.
"Basically, at that point it will be to where you can't drink that water," Plaquemines Parish President Keith Hinkley said.
Saltwater mixing with drinking water has been an issue for South Plaquemines Parish all summer. Hinkley says parish and state governments have bussed in more than 1 million liters of fresh water for the 2,000 impacted residents and he says he fears what would happen if and when the rest of the parish needs similar resources.
+ Click here to see where the saltwater wedge is now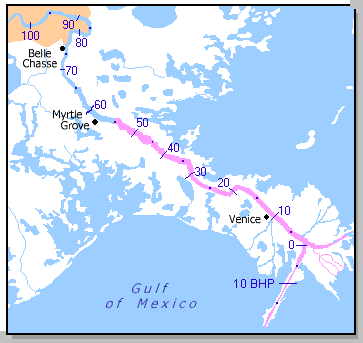 "It's just very bothersome. I don't know what to say about it. I did not know," Belle Chasse resident Jennifer Boudreaux said.
Boudreaux says she never thought the salt wedge would creep near where she lived but has been taking precautions nonetheless.
"It's very worrisome. I'm worried about simple things, watering your plants. I've been giving my dogs bottled water and I'm not cooking with it just in case," she said.
Hinkley says the parish will tap into water lines in St. Bernard, Orleans and Jefferson Parishes to bring in as much fresh drinking water as possible while the Army Corps of Engineers look at extending the height of its emergency sill in the Mississippi River near the bottom of Plaquemines Parish.
RELATED STORIES
Saltwater from Gulf could overtop emergency sill, threaten drinking water upriver
New pump easing saltwater concerns in Plaquemines Parish
Schools in southern end of Plaquemines Parish dealing with water issues
Corps of Engineers planning second saltwater sill in less than a year in Plaquemines Parish
Plaquemines Parish fights second saltwater threat as river flow declines; water supply at risk
Fishermen waiting to see how Mid-Barataria project impacts industry
The hope is the sill will continue to delay the salt wedge from creeping upriver while the Corps does other emergency projects.
"They are pursing water barging to impacted water intakes. They will use those barges to reduce the salinity of the water to safe levels. In addition, we are also working to obtain reverse osmosis water purification units. These units can be utilized at smaller water treatment plants to take the pressure off the larger ones," Col, Cullen Jones said.
Emergency officials say for communities upriver like in St. Bernard or Orleans Parishes, it's best to prepare like a hurricane is coming just in case.
"If no action is taken, we could potentially see the saltwater wedge all the way up to the French Quarter," Jones said.
While local emergency officials aren't yet sounding the alarm to rush out for bottled water cases, they stress that hundreds of thousands of people could be without drinking water if conditions worsen.
"This would be similar to what we've seen in other cities that lost their water, like Jackson or Flint. You would see a Presidential Declaration. You would see a lot of trucking water and moving water through lines," Director of the New Orleans Office of Homeland Security and Emergency Preparedness Collin Arnold said.
In addition to state and local emergency officials keeping close tabs on the salt wedge, federal officials are also gearing up, just in case.
"We've had conversation with FEMA and our other federal partners as far as coordination, as this situation continues to evolve," Director of the Governor's Office of Homeland Security and Emergency Preparedness Casey Tingle said. "We think the mitigation measures that the Corps is taking is going to slow down the saltwater intrusion and allow us the time that we need to be able to ensure those compromises don't happen, but we are going to be paying very close attention and planning as if they might."
See a spelling or grammar error in our story? Click Here to report it. Please include the headline.
Subscribe to the Fox 8 YouTube channel.
Copyright 2023 WVUE. All rights reserved.