Saltwater from Gulf could overtop emergency sill, threaten drinking water upriver
"What I believe our citizens need to start thinking about is conserving water," said St. Bernard Parish President Guy McInnis.
Published: Sep. 14, 2023 at 4:39 PM CDT
NEW ORLEANS (WVUE) - Time is running out for state and federal officials before saltwater could overtop an emergency sill in the Mississippi River and threaten drinking water supplies in St. Bernard, or even as far as Orleans, and Jefferson parishes.
Governor John Bel Edwards spoke on the crisis on Sept. 14, saying the Army Corps of Engineers is looking at potential temporary solutions like raising the height of the sill that's already in place. The $8.9 million underwater dam in Lower Plaquemines Parish is built so its top is 55 feet below the surface, leaving just enough room for ocean-bound ships to navigate across.
+ Click here to see where the saltwater wedge is now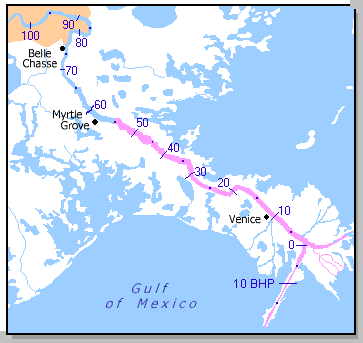 Edwards says drought conditions in the northern Mississippi River Valley region have led to decreased water levels in southeast Louisiana, allowing saltwater from the Gulf to encroach against the naturally flowing freshwater.
"It doesn't matter the rain here. It matters up in the Mississippi Valley. How much rain there determines how far the saltwater is going to come," Gov. Edwards said.
The issue has been impacting residents in Lower Plaquemines Parish for months now. Low water levels have allowed the saltwater to contaminate drinking water, and low water pressures have led to burst pipes and boil water advisories.
RELATED STORIES
New pump easing saltwater concerns in Plaquemines Parish
Schools in southern end of Plaquemines Parish dealing with water issues
Corps of Engineers planning second saltwater sill in less than a year in Plaquemines Parish
Plaquemines Parish fights second saltwater threat as river flow declines; water supply at risk
Fishermen waiting to see how Mid-Barataria project impacts industry
St. Bernard Parish President Guy McInnis is warning residents to conserve drinking water in anticipation of the saltwater wedge moving farther upriver. He says the saltwater intrusion could begin impacting his parish as soon as Oct. 8.
"When we get to this situation where we cannot take water in to produce and treat and send out, we're going to have to conserve water to give ourselves time for this saltwater wedge to retreat," McInnis said. "What we're going to try to do before October 8 is to have our water towers filled with water. Right now, we're at about half capacity, and what we've put out of our plant every day we basically consume. We're going to try to put out a little bit more, fill up our water tanks so that we'll have more pressure for a longer period of time if this salt wedge gets to us, which we think it will."
McInnis says parish officials are in talks with the City of New Orleans about possibly tying into the neighboring lines.
"I'm hoping that we will be able to connect to the city of New Orleans, to their water plant. What does that look like as far as the salt wedge getting into the city? And how they draw that water? I don't know that answer yet," he said. "What I believe our citizens need to start thinking about is conserving water."
Officials stopped short of saying whether they believe the saltwater could flow any farther north than St. Bernard or Algiers.
"What we're seeing now with this forecast that just came out is we are going to have water levels that are very close to the all time record for low water in the Mississippi River," said Ricky Boyett with the U.S. Army Corps of Engineers New Orleans. "We know this has the potential to last through the January timeframe. The sill will not prevent it from occurring, so what we have to do is consider all the options."
Boyett said potential solutions include the raising of the sill, water purification systems and barging water, which has been done in the past. But all of these solutions are temporary, he said.
In 1988, a year which Boyett said set the record for lowest levels on the Mississippi, more than 100 million gallons of water were barged, he said.
"If we are able to go in and find a good design in which we can increase the sill and it can kind of increase that delay, we can push that date back," Boyett said. "If these conditions continue to progress as they are, it's inevitable the saltwater sill will get overtaken."
In July, Gov. Edwards declared a state of emergency in response to the situation.
McInnis said if South Louisiana ever wants to begin to see lessened impacts from saltwater intrusion, the Corps would have to look at closing off some tributaries and crevasses.
"All of these groups out there who are championing all of these cuts into the river, the diversions and all of these crevasses that they promote, where are they right now?" McInnis said. "The citizens that live in these communities are dealing with that problem."
State and local officials will be addressing the saltwater intrusion situation at a press conference at 9 a.m. Friday.
See a spelling or grammar error in our story? Click Here to report it. Please include the headline.
Subscribe to the Fox 8 YouTube channel.
Copyright 2023 WVUE. All rights reserved.