Here's when you can see the next full moon
Moon gazers will rejoice with this next celestial sighting
Published: Mar. 31, 2023 at 2:48 PM CDT
NEW ORLEANS (WVUE) - It's always visible with the naked eye, the full moon brings millions out to gaze upward.
It takes 29.5 days for the moon to complete a full cycle. That means there's an average of one full moon a month. The next full moon is called the Pink Moon named for the early blooming pink moss phlox.
The best time to see this bright moon is on Wednesday, April 5th before midnight at 11: 35 PM CDT. Even though that's the peak, the moon will appear full between Tuesday evening and Friday morning.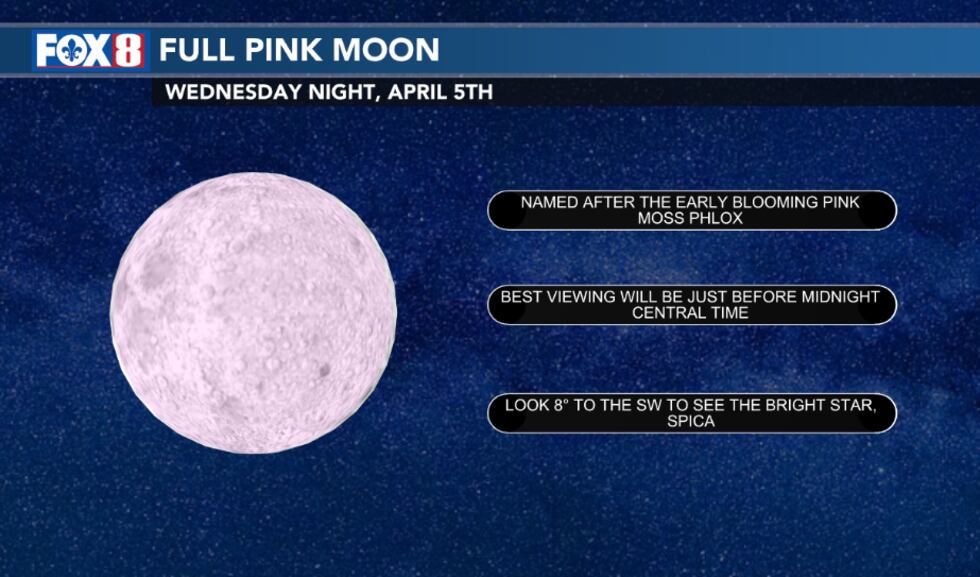 The Pink Moon has also been referred to as Sprouting Grass Moon, the Egg Moon, and the Fish Moon.
While you're at it, check out the 15th brightest star in the night sky, Spica. It can be seen about 8 degrees to the southwest of the full moon.
Between April 21st and 22nd, you can enjoy the peak of the oldest known meteor shower, the Lyrids. Capping the month off is the next solar eclipse on April 30th.
See a spelling or grammar error in our story? Click Here to report it. Please include the headline.
Copyright 2023 WVUE. All rights reserved.