Clark, Czinano lead Iowa past SE Louisiana in March Madness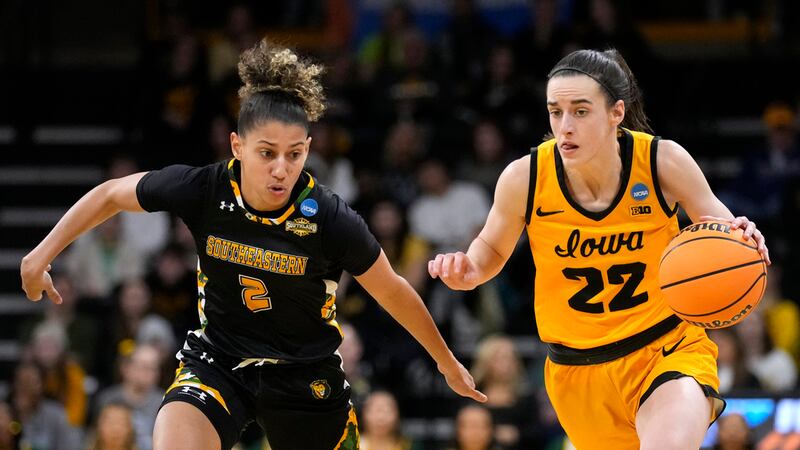 Published: Mar. 17, 2023 at 9:37 PM CDT
IOWA CITY, Iowa (AP) — Iowa had the nation's best scoring offense this season, but the Hawkeyes know a deep run in the women's NCAA Tournament is going to require defense as well.
Iowa showed it can shut down an opponent in Friday's 95-43 win over Southeastern Louisiana in a first-round matchup.
Caitlin Clark had 26 points and 12 assists and Monika Czinano added 22 points as the second-seeded Hawkeyes (27-6) advanced to play No. 10 seed Georgia in Sunday's second round.
The Hawkeyes held Southeastern Louisiana (21-10), the 15th seed, to just 25.4% shooting for the game. The Lady Lions scored just 11 second-half points, making 3 of 32 shots.
"Maybe our offense is better than our defense," Clark said. "But we still think we're a good defensive team. We've really bought into getting better. We know your defense will always be there. Maybe your offense won't always be there, but (defense) is something you can fall back on."
The Hawkeyes shifted to a zone defense in the second quarter, and stayed in it for the rest of the game.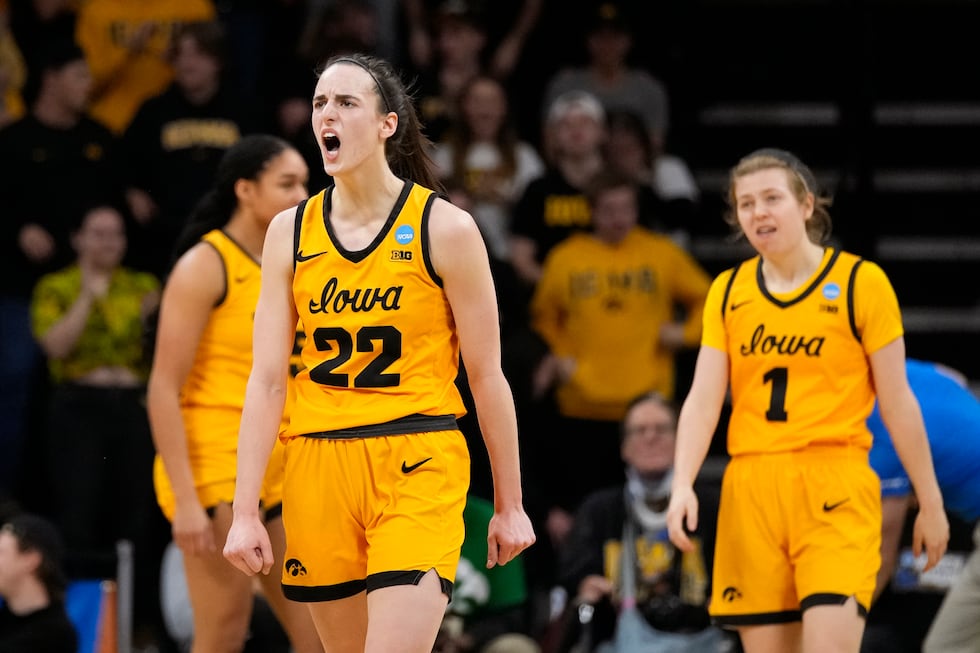 "Really, it was kind of to preserve our legs a little bit," Iowa coach Lisa Bluder said. "So, first of all, (the zone) was working. And then second of all, why run around chasing screens if you don't have to. We're going to play again on Sunday, so it's nice to sit in a zone, not have to play all of those screens."
"When you look at a Big Ten team, you think they can guard a little Southland school," Southeastern Louisiana coach Ayla Guzzardo said. "I'll be honest with you, you would think they could guard us man-to-man. But they went zone. Great game plan because we don't shoot the three-ball well."
Clark, an Associated Press first-team All-American who was third in the nation in scoring at 27 points per game, added seven assists. She was 9 of 14 from the field.
"I'll be honest, we haven't seen anything like Caitlin Clark," Guzzardo said. "What they can do with the ball from a scoring advantage to her passing ... I think that's where we became on the sideline, saying, 'That's a great pass.'"
Czinano, third in the nation in field-goal percentage after leading the nation in that category the last two seasons, was 10 of 12 from the field. She added eight rebounds.
The Hawkeyes, playing in front of a sellout crowd of 14,382, never trailed. They led 28-17 at the end of the first quarter and 54-32 at halftime. Iowa shot 60.6% in the first half, 60% for the game.
"We've seen everything (on defense)," Clark said. "They were physical, they were a scrappy team. But I really don't know what there is you can do to us that we haven't seen."
Iowa hadn't played since winning the Big Ten Tournament championship on March 5, and Bluder was worried about rust.
"If anything, we got a little sharper," Bluder said.
Southeastern Louisiana, the Southland Conference regular season and tournament champion, was making its first NCAA Tournament appearance. Cierria Cunningham led the Lady Lions with 15 points.
Hannah Stuelke added 13 points for the Hawkeyes, making all five of her shots.
See a spelling or grammar error in our story? Click Here to report it. Please include the headline.
Copyright 2023 WVUE. All rights reserved.